Your invitation to an exclusive 4-day online training event with renowned stock trader, educator and author Eoin Treacy…
The 'Trading Triggers' 4-Day Tutorial:
How to spot major upswings in stock prices BEFORE THEY HAPPEN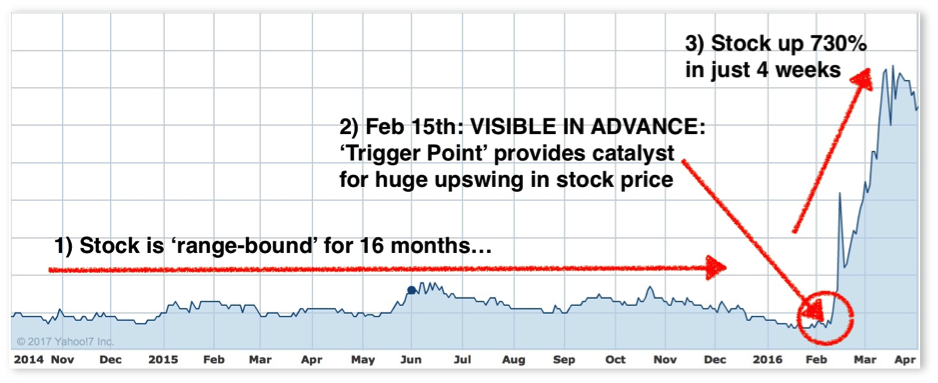 FREE ONLINE TRAINING EVENT
Sign up and see part one free TODAY
Enrolment is FREE… enter your email address below to reserve your place:
By entering your email address you agree to receive emails about The Trading Triggers Tutorial. You can stop these emails any time by clicking on the unsubscribe link in these emails. For more information, see our privacy policy.

No spam pledge: we'll never rent, misuse or abuse your email address.
Over four days – starting today – you are going to discover a surprisingly simple way to trade stocks, and be in with a chance of winning most of those trades.
That's because you'll get a rare insight into what can REALLY move stock prices in a big way – and you'll discover exactly how to find and trade these moves...
Most traders are not looking for the signals that drive these big upswings.
But renowned trader and educator, Eoin Treacy, is. In fact, the former Bloomberg Analyst has built his trading career around his ability to spot and trade these signals.
This is the idea he's going to share with you over this four day tutorial, presented by Southbank Investment Research Publisher, Nick O'Connor.
On days one, two and three, Eoin will share a different element of his 'Trigger Point' trading strategy with you – a system that can spot huge potential upswings in stock prices ahead of time.
This is the exact same system Eoin has used to build wealth successfully over the past 12 years.
On day four, you'll get the chance to find out how to receive a live trading recommendation – so you can put Eoin's strategy to the test yourself.
To join the guest list for this exclusive training event now, simply enter your email address below. It couldn't be easier:
By entering your email address you agree to receive emails about The Trading Triggers Tutorial. You can stop these emails any time by clicking on the unsubscribe link in these emails. For more information, see our privacy policy.

No spam pledge: we'll never rent, misuse or abuse your email address.
Over the course of four days, Eoin will break his unique trading system down into a series of easy-to-understand lessons
You'll want to sign up and tune in to this four day training event if...
You've never traded stocks before and you're a bit wary of it – but you really like the idea of the potential rewards on offer...
You think trading stocks is too complicated, too fiddly and too risky
You've tried other "systems" before and found them difficult to understand and too restrictive – and you've basically given up.
You want to discover a new 'edge' to use in your current trading
Here's the agenda for the four-day programme...